Welcome to TVR 101
We specialise in TVR, Lotus, Porsche and Jaguar sports cars. With decades of experience we can offer a full range of servicing and maintenance options from an oil change to a full rebuild at sensible and competitive prices.
We are proud to provide a personalised, quality service to all of our clients, many of whom have their specialist car and daily drive looked after by us.
Our services include the following:
Servicing
Repairs
Outrigger replacement
Restoration & rebuild
Upgrades
Aircon re-gassing
Transport & Storage
Vehicle Sales
A good cup of tea
At TVR 101 the focus is on our customers and their cars. Everything that we do is intended to enhance the ownership experience.
TVR101 Car Storage full update!
We are ideally located just outside Farnham on the Surrey/Hants borders, in close proximity to the A3, A31, M3 and M25. London, the South Coast and Farnborough Airport are all within easy reach, as is Goodwood.
Our brand new purpose built storage facility has 24hr recorded external and internal CCTV monitoring. The secure unit is located next to our main TVR101 Service and Restoration Centre and the entire compound is steel fenced and gated.  Being next to our main unit means we have fully trained and experienced vehicle technicians on hand to service your car as appropriate or remedy any issues. We can also arrange an MOT when needed.
On arrival your car will be thoroughly checked over and the condition recorded. It will be allocated a space and number, connected to a battery conditioner and protected with a soft breathable cover.
With 24 hours' notice your car can be picked up Monday-Friday 8am-5pm and Saturday 8am-12pm, and outside those hours by previous agreement. We can also offer collection and delivery of your vehicle to and from our storage unit (with reasonable prior notice provided).
We have decades of experience in the automotive industry, and with our onsite vehicle technicians we believe we can offer a unique car storage facility, giving you reassurance and peace of mind for your pride and joy.
Weekly cost £35 + VAT       Call us on 01420 23603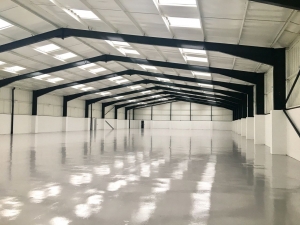 Rally for Heroes!
Good luck to Steve and all the Rally for Heroes participants in their upcoming final run! 
Unique Cerbera for sale!
We are currently preparing for sale a 1 owner Crystal Topaz 4.5 Cerb on only 18k miles from new! The car represents an amazing opportunity to own a genuine low mileage V8 Cerb in one of the best colours available. The car is undergoing a complete overhaul, 12k service and detailing. Call us on 01420 23603 to discuss or arrange viewing.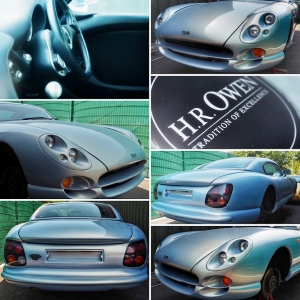 TVR101 were out in force at the Daytona Milton Keynes last week for the LKQ Euro Car Parts Karting Tournament final. A big thank you to all involved for putting on such a great event for the motor industry! Alfie will be racing the Mini Cooper for the first time at the Brands Hatch Mini Festival on 7th August, please come and say hi!!
Body off!
We already have a number of autumn/winter chassis-off rebuilds booked in! If you are thinking of having restoration or outrigger work done please give us a call and book a slot. See the information sheets in the pictures for pricing and details. Griff SE No1 is currently going through the workshop at the moment!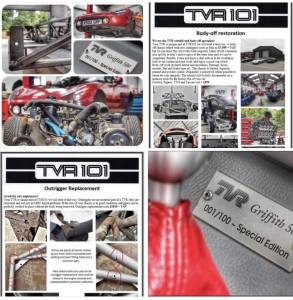 Kart Crazy!
Racing is in the blood! 
We are delighted to say Alfie has made it through to the final of the LKQ Euro Car Parts Karting Tournament! There were over 3000 entrants and both Will and Kyle performed very well in earlier rounds. Many thanks to all at Euro Car Parts for putting on another fantastic competition. The final will be in Milton Keynes on 14th July.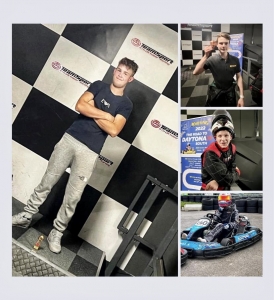 Lucky Chuck!
It's been great having Chuck's LHD Chimaera in the workshop for last few of weeks.  Chuck recently bought the Chimaera in Sweden and then travelled on to us to give it a thorough check over and service. Other alterations included fitting an automatic boot fob and high raise lid modification. Safety items like fuel hoses have of course all been changed. We have also swopped the speedo back from a KPH to MPH dial. Whilst in the UK Chuck did a spot of sightseeing including visiting the Festival of Speed. He has now returned to Detroit where he lives, and we are helping to ship the car back to the USA via Southampton in July.
Lotus – TVR S
We are always happy to service Lotus cars, so if you have friends who own them please feel free to recommend us! We also have a truly fantastic V8S in the workshop this week, having completed less than 18k miles from new. It's great to see these cars are finally getting the attention they deserve, having been a major factor in TVR's successful rebuild under Peter Wheeler. It would seem about 1,000 are still with us, taxed or on SORN, but less than 200 of those are V8's. In true TVR fashion they didn't always register the cars with the correct name so it's difficult to be precise! We can service, repair or rebuild your TVR, whatever name it goes by!
Tuscan Tuesday! 
Tuscan Tuesday! Over 20 years after release these true motoring icons still look fantastic! Close to 1000 remain on the roads and they continue to turn heads and wake up the neighbours! We can service, repair or rebuild whatever TVR you own 
Flying the flag!
At TVR101 we are always optimistic, and with the new TVR Griffith and factory in the news last week we would be delighted if this time it really does produce results. In the mean time we are here to keep the previous generations well and truly in the spotlight! From a service to a rebuild we are TVR through and through!
P.S we are now looking at putting charging sockets in the workshop!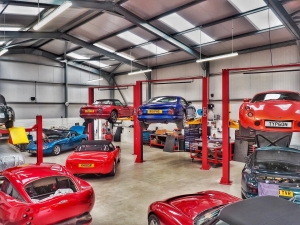 At your service!
At your service! We've seen a number of cars recently that have suffered through (understandably) not being serviced during the last 2 years of lockdowns. When your car is in for a service we will give you a comprehensive breakdown of any other issues arising and their priority. Please call us on 01420 23603 to book.
Storage expansion!
TVR101 car storage expansion! We are currently in the process of having a purpose built storage unit constructed next to our new premises. This will hopefully be ready for autumn/winter 22, so if you are looking for competitively priced storage for your TVR, or any make of car please call us now to reserve your space.
Alfie joins the team!
After recent testing at Brands Hatch we are delighted to announce Alfie Woodrow will join the TVR101 racing team for 2022! Judging by his save at Paddock Hill he obviously gets his inspiration from Endaf! Alfie and Woody will race the Mini Cooper S in a number of events and we will post dates here and on our Instagram site tvr101sportscars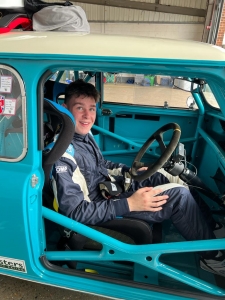 What a view! 
Ever wondered what goes into one of our body-off rebuilds? Here is a Griff chassis ready for reassembly (we may have missed the odd nut and bolt!). What we can't show you are the hours of work, dedication and care needed to get the car completed for the customer. TVR101, we know TVR's from the ground up! 01420 23603
T350 Love!
One T350c is never enough!
Sprint to the finish!
Great to be featured in this months excellent Sprint! Thanks to Steve Shaw and all the team. We are lucky to have such a vibrant and well supported TVR community of owners, fellow business colleagues and enthusiasts. All these help to make our work our passion and not just our job!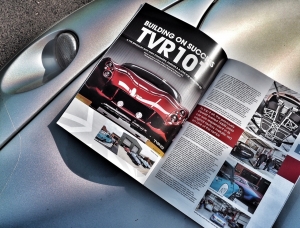 We have moved!

 
Please call us on 07843 684836
if our usual numbers don't work
We

are

on

the

move!

!
TVR101 are on the move! We are excited to announce our expansion to new and bigger local premises in Spring 2021! Thank you to all our customers who have helped us grow over the last 6 years, to the TVR community for your continued friendship and comradery, and to our friends and family for your loyal support.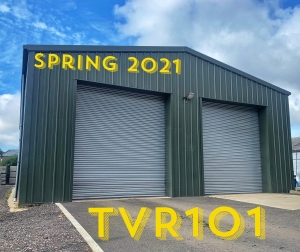 Remembering Peter Wheeler ❤️
Peter Wheeler was born on 29th Feb 1944. On this leap year we celebrate his birthday and the incredible legacy he has left behind for all TVR drivers, enthusiasts and businesses alike. Give those throttles an extra blip this Saturday and let the great man hear the growl!

IT'S OFFICIAL
!
We can now confirm we are rebuilding the original 400R/440R/De Walt press car (PN02 ZNG) in preparation for sale in 2020. Working with our friends at Surface and Design the car will be returned to its original factory red show colour. Needless to say we are very excited about this project at TVR101. If you are seriously interested in purchasing this unique piece of British motoring history, and want to be involved from the start, please give us a ring. If you simply want to follow its progress, regular updates will be on our website, Facebook and Instagram pages. For further information on these incredible cars follow this link…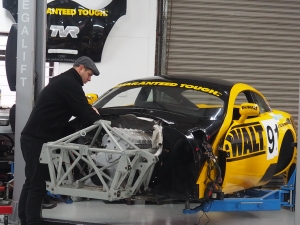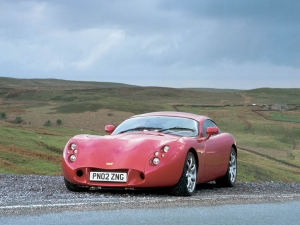 TVR101- The 1 in the South!
We are aware that over recent months a number of our TVR colleagues in the South East have ceased trading or no longer service and repair TVR's. With thousands of TVR cars still on the road TVR101 is certainly ready for action should you need us! Our team have decades of TVR experience, a courtesy car, and are close to a main line station. We are also close to the M3 and A3. We can service, repair or even totally rebuild your car. TVR101 is the place to bring your car in the south of England 

👍🏼