Welcome to TVR 101
We specialise in TVR, Porsche, Jaguar and Lotus sports cars. With decades of experience we can offer a full range of servicing and maintenance options from an oil change to a full rebuild at sensible and competitive prices.
We are proud to provide a personalised, quality service to all of our clients, many of whom have their specialist car and daily drive looked after by us.
Our services include the following:
Servicing
Repairs
Restoration
Upgrades and Remapping
Transport & Storage
Vehicle Sales
A good cup of tea
At TVR 101 the focus is on our customers and their cars. Everything that we do is intended to enhance the ownership experience.
Farnham Soapbox Race 2019!
What a day! We were proud to be part of the inaugural Farnham Soapbox Race in aid of the Phyllis Tuckwell Hospice. Our A Team themed soapbox (driven by the super talented Alfie Woodrow) performed admirably down the steep Castle Street course with a time of 43.15s. Thanks to Reade Signs for your help with the Soapbox and of course Farnham Rants for organising such a special day.
Silverstone Classic Race Ready!
We were delighted to be racing at the Silverstone Classic Weekend with Endaf and the Owens Fabrication Team on 26th/27th/28th July. Why not come and support the TVR101 Mini Cooper at our next race in Spa! 👍🏼#owensfabrication #readesigns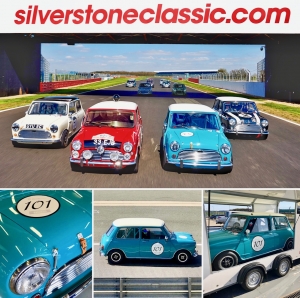 Top pic photo credit – JEP
Griffith SE No1!
TVR Griffith SE No1 was with us recently for an MOT, service and some fettling. In 2000 TVR announced the Griffith production was going to end and a limited edition run of 100 Special Edition (SE) cars were to be built. Most of the SE's had a hybrid interior using the Chimaera dashboard and Cerbera seats. Other differences from standard cars included rear lights, mirrors, indicator lenses and more powerful headlights. The cars came with a plaque indicating the build number and a Special Edition Badge on the boot.  The 100 SE's were built between 2000 and 2002, with the last road registered in 2003.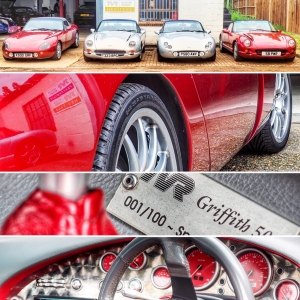 Late is great!
It was a pleasure to have two late Chimaera's in the workshop recently, both registered in 2002. One was having a new camshaft and the other was in for suspension modifications. 27 years after their launch Chimaera's still look great 👌🏼 give us a call on 01420 525273 for repairs, rebuilds or storage of your car.